Stock the Frig Right! Top five must-have items
Now yesterday I talked about shelf stable items today I want to focus in on perishable items! Today is protein and dairy day in the frig – tomorrow I will focus on the other five!
1.  Omega eggs – These wholesome, hearty eggs are a must at my house.  They even taste better than regular eggs.  The omega variety contain about 250 mg omega-3s; 150 mg EPA/DHA plus 300 ug lutein and rich in vitamin E.  These chickens were fed a blend of fish oils instead of flaxseed.  Fish oil is better absorbed than flaxseed oil!  A great way to get the essential omegas – especially if you don't like fish!
2. Kefir – This drinkable yogurt contains ten live active cultures, aka probiotics, to help build a healthy immune system.  Comes in all different flavors!  One cup is about 140 calories and 11 grams of protein!  Another go-to item when I am hungry and just don't know what to eat.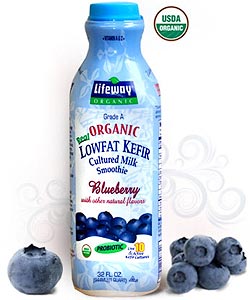 3.  Reduced-Sodium lunch meat – At my grocery store they have a wonderful deli case with varieties of reduced-sodium meats including ham and even turkey!  They are about 250-350 mg of sodium for 2 ounces.  Be careful, Sara Lee has one out there but they are still pretty high in sodium – see if there are other options.  A great source of protein for any time of the day!
4.  Yogurt – Find a yogurt that is all natural and just getting back to the basics.  I like yogurts without any sugar substitutes such as splenda (sucrolose) or nutrisweet (aspartame).  Here is one of my favorites and probably only available in the mid-west, sorry!  It is to die for!!  105 calories and only 6 grams of sugar – wonderful flavor with not much added!  This is seriously what my breakfast looks good and I get excited for it every morning!   It can even be a dessert – it is THAT good!
Kalona Organics
5.  Greek Yogurt – I am hooked on this combination.  Throw out the sour cream and try using nonfat (full in the picture, sorry) Greek yogurt and a seasoning packet.  This is the perfect snack when I am starving.  I bring out this dip and the baby carrots and go town – and I don't have to feel guilty
---